Hands on Health Associates
Massage Therapy
for Relaxation & Pain Relief
Today, massage therapy is one of the fastest growing complimentary therapies. People are choosing massage therapy not only as a pleasurable way to reduce stress and tension but also as a way to become actively involved in their own health and well-being. In addition, the medical community is shifting their focus towards prevention and health maintenance in conjunction with primary care and rehabilitation. Massage therapy is an integral part of this combined approach. Medical doctors, chiropractors and doctors of osteopathy are increasingly prescribing massage therapy to their patients and insurance companies are starting to recognize the value of massage and reimburse for it.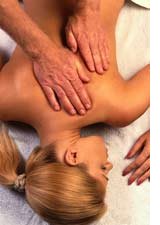 The popularity of massage stems from the fact that it is not only therapeutic, but it feels fabulous! Massage therapy alleviates muscular stiffness, tension and pain while promoting optimum musculoskeletal health. With a variety of hands-on techniques, the therapist stretches and loosens muscles and connective tissues. The therapist's hands help to improve the blood flow to your tissues and aids in the removal of metabolic waste products that are a result from exercise or inactivity. This allows more oxygen and nutrients to reach the cells and tissues. Sensory receptors in skin and muscles "wake-up", bringing new awareness to areas that have felt "cut-off" by chronic tension. All this results in an amazing feeling of well-being and wholeness.
How massage can help you
Loosens tight muscles

Reduces swelling

Reduces chronic pain

Deepens respiration

Stretches connective tissues

Increases blood and lymph circulation

Reduces scarring

Lowers blood pressure

Speeds recovery from injury or illness

Strengthens immune system

Physically relaxes the body

Calms the nervous system

Relieves cramps and muscle spasms
Licensed Massage Therapists
Our Licensed Massage Therapists have completed their training at a state approved massage therapy school, passed a written and practical massage examination and are registered by the Texas Department of State Health Services.
Our therapists have knowledge in anatomy and physiology as well as various techniques for treating and preventing musculoskeletal conditions. Stretches, therapeutic exercises and self care advice may also be suggested by our Licensed Massage Therapists.
For other questions, information or help finding us, contact Karl@AustinMassage.net or call 512/326-1515

For appointments, please call our Appointments
Coordinator at 512/326-1515
Book an appointment online!